Phoenix Mars Lander
Launch: August 4, 2007
Landed on Mars: May 25, 2008
Phoenix Mars Lander, Welcome to Mars!
| | | |
| --- | --- | --- |
| | | |
Landing Day - May 25, 2008

The Entry, Descent and Landing (EDL) Team's Perfect Landing!

Senior Engineer Richard Kornfeld cheering. Everyone in the control room wore special Phoenix EDLTeam shirts with my artwork on them.

Peter Smith, the Phoenix Principal Investigator, was thrilled. Note the special Phoenix EDL Team badge with my artwork.

Phoenix Landing Day Event at Caltech with Mars flag

then-girlfriend Annie held for a moment (not mine)

My Phoenix artwork was on the back wall during the landing.

Phoenix landing success - my artwork is on the binder cover.Team shirts, badges, wall art and binder covers with my artwork on them added up to both another great day for Mars exploration and my artwork!

Landing day in Tucson, Arizona: Heather Enos, project manager for the TEGA instrument and Chris Shinohara, project manager for the Surface Stereo Imager and Robotic Arm Camera.

Phoenix Mars Lander Large Pic Posters

Click on them to see full-size

Like the Mars Exploration Rovers Spirit and her sister Opportunity, the team referred to the Phoenix lander as a female. Her feminine personality was evident as she twittered her way from Earth to Mars, most famously on landing day.

Tweets sent by Phoenix during landing, May 25, 2008:

Atmospheric entry has started, time to get REALLY nervous. Now I'm in the "7 minutes of terror."
Peak heating in 40 seconds!
parachute must open next. my signal still getting to Earth which is AWESOME!
parachute is open!!!!!
come on rocketsssss!!!!!
I've landed!!!!!!!!!!
Cheers! Tears! I'm here!

End of mission Nov. 10, 2008

Phoenix Artwork at JPL

My parents on JPL tour with my Phoenix artwork

Phoenix artwork at JPL

Pre-dawn Launch from Kennedy Space Center - Aug. 4, 2007

Launch of Phoenix Mars Lander

Double-exposure of me minutes after watching pre-dawn launch

Kennedy Space Center launch poster with my artwork

Phoenix launch event badge with my artwork, Kennedy Space Center, on post-launch tour
| | |
| --- | --- |
| | |
| Phoenix project manager Barry Goldstein at press conference in front of my artwork | My Phoenix touchdown scene is on the cover of David Harland's "Space Exploration 2008" |
Phoenix Mars Lander Cover Art
| | | | |
| --- | --- | --- | --- |
| | | | |
| PBS DVD | NOVA DVD | Sept. 2008 cover of Sky and Telescope | Aug. 2008 cover of Astronomy Now |

Phoenix Mars Lander on Mars Image Gallery

The official Phoenix project website at the University of Arizona

| | | |
| --- | --- | --- |
| | | |
| CSA Phoenix sticker: The Canadian Space Agency provided instruments for measuring the weather. | | Phoenix captured the image at left showing the green LIDAR laser beam illimunating dust in the Martian sky above the lander. |
A Look Back at a Noble Mars Lander Popular Science, May 22, 2009
Kennedy Space Center, Florida, April 4, 2007
My Artwork on the Phoenix Launch Tower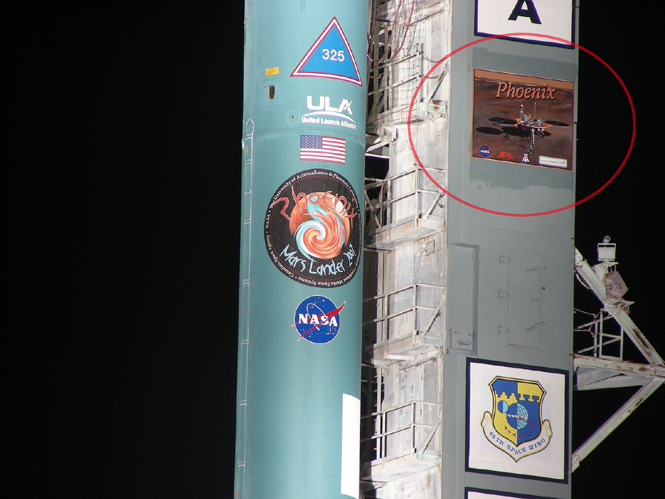 My Artwork on the Phoenix Launch Tower
This was something new - my artwork appeared in all the Phoenix launch pics but not on the rocket. My artwork was on the launch tower! It's circled in red. Click to see larger version.
The Phoenix Logo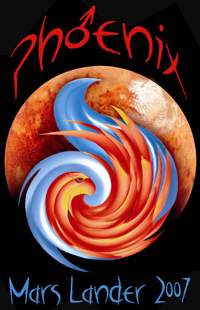 My Phoenix Launch Trip Pics, August, 2007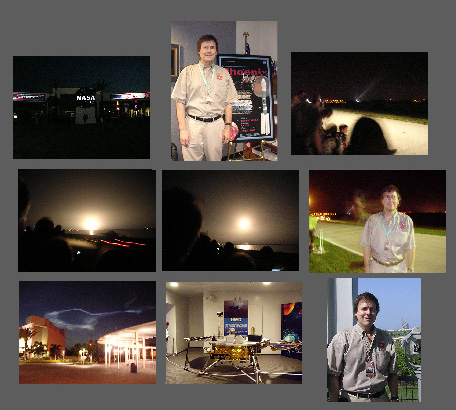 Click to see larger versions of my Phoenix launch trip pics, Aug. 2007
The Phoenix Team in Tucson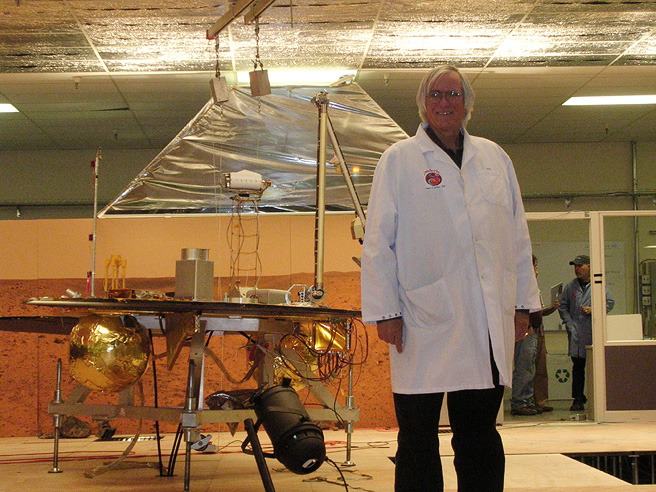 Peter Smith's Laboratory
Dr. Peter Smith, is the Phoenix PI, or Principal Investigator. He lead the Phoenix program, which is managed by the University of Arizona for NASA. JPL is working very closely with his team which is located in Tucson, Arizona at the Phoenix Mars Lander Science Operations Center, where I took this picture in February, 2007, on my way home from Lockheed Martin in Denver (see below). Peter Smith is very tall and also very friendly. So it was especially fun seeing him that day just before he was interviewed by the Discovery Channel. It brought to mind all the fun associations of what it means to be a scientist, you get to wear a white lab coat and do things like organize a big-budget expedition to the North Pole of Mars where your own robot will reach out and touch the first water on another world. No wonder he's so happy in this picture!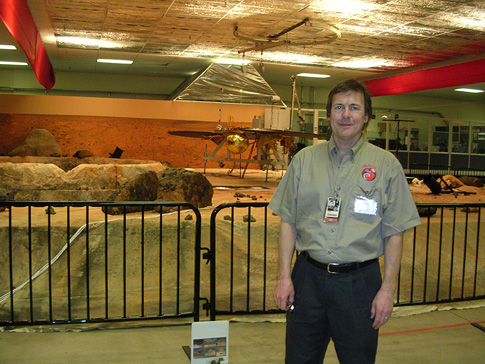 I enjoyed a quick tour of the Phoenix SOC (Science Operations Center) in Tucson, Arizona, February, 2007. Everyone knew who I was - "the Phoenix artist" - and I got to see my artwork being used there, not just as wall posters but also on an amazing Phoenix Countdown Clock near the visitors entrance. It was thrilling to see my images being used like that.
Visiting Phoenix at Lockheed Martin Space Systems in Denver, Feb. 2007
I was very fortunate to be invited to go and see the Phoenix Mars Lander up close - it was a beautiful & complex sight. Human ingenuity stretched to the limits. Well worth the price I paid for my own trip to fly to snowy Denver and put on a clean room "bunny suit" and walk right up to Phoenix. It was unbelievably cool. I needed to see Phoenix in person so I could create the best possible artwork, at least that was the excuse I used!

Gallery: My pictures of the Phoenix Mars Lander in the clean room
Highly Recommended!
A remarkable story that is partly illustrated with my Phoenix artwork but all the credit goes to Steve the Cat's owner, who created it.
Phoenix Mars Lander Mug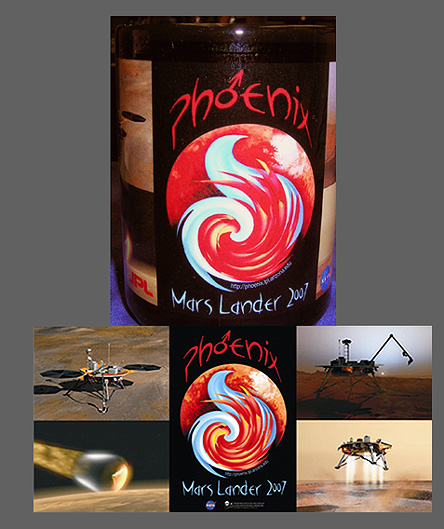 Phoenix Mars Lander mugs with 3 of my images were available at the JPL store.
Origin of the Phoenix Mission
The failed 1998 Mars Polar Lander

The cancelled 2001 Mars Surveyor Lander

Above: The two spacecraft that were combined into the Phoenix in a side-by-side comparison.

The Phoenix mission was actually a reincarnation of the cancelled 2001 Mars Surveyor lander and the failed Mars Polar Lander. The lander body is from the 2001 Lander, literally, and it's been combined with the lost science instruments of the Mars Polar Lander. The name comes from the mythical Phoenix bird, a creature that could be reborn.
Phoenix won a competiton to be the first Mars Scout

Click on my artist concepts to learn more.
In 2003, NASA Headquarters decided to send the Phoenix Mars Lander after careful consideration of many possible missions for the 2007 launch opportunity. It was a "competed mission", pitting rival NASA rival centers and university teams against other. I was surprised and pleased when Phoenix won - my artwork was featured in the press release. The "winning cover" image of Phoenix is seen above with the other competitors.
NASA decided to "follow the water" that the 2001 Mars Odyssey had just discovered back then. So a lander that could dig up ice and analyze it was a great choice. That's exactly what Mars Scout missions are for - to follow-up on new discoveries.