The Mars program is designed to follow up on new discoveries, or put another way, it is "discovery-driven". That means it is impossible to say right now exactly what type of mission should be flown for 2011 and beyond. Mars scientists are going to see what the current missions discover before recommending what should come next. A good example is the extensive amount of ice that Mars Odyssey discovered on Mars. The decision was made to follow up that with a 2007 lander named Phoenix that is capable of digging into the ice near the North Pole and directly analysing it. Mars missions take years to prepare so a decision has to be made about 4 years or so before the launch opportunity. That means that JPL is kept busy preparing many different options, all of which require years of technology development and mission planning.
In January, 2007 NASA HQ selected two candidate Mars Scout proposals: "MAVEN" and "The Great Escape".
See also "NASA Selects Proposals For Future Mars Missions And Studies"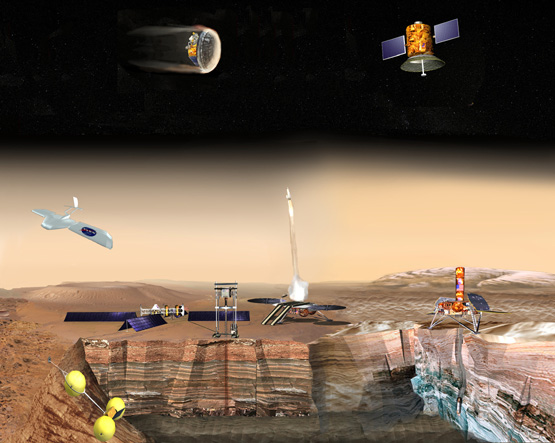 Sample return and subsurface access are part of the future Mars program
Future missions may include a 2016 Mars Science Orbiter (MSO). In 2020 a Mars Sample Return lander and rover may be sent.
Earlier possibilities for the next decade used to include an Astrobiology Field Laboratory rover followed by a Deep Drill Lander. But these proposed missions seem to have fallen by the wayside. A new landing technique is being developed for some of the next decades missions which would use a skycrane.
The Mars program has always been evolving and always will .......that's just the nature of the exploration business. Expect the unexpected and be prepared to take advantage of it!