My job was to help Kirk Goodall fix up the Pathfinder website by adding some artwork and organizing it better. For the first time in history the world was able to see pictures returning from the surface of Mars via the Internet. And the Mars Pathfinder Web Engineer was Kirk Goodall.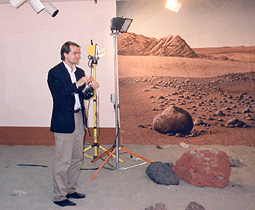 Around that time the mission had just ended officially and scientists like Matt Golombek, the Pathfinder project scientist, were preparing to publish their findings. Pathfinder's landing site in Ares Valles was quite intriguing and Matt deserves the credit for choosing it. He wanted lots of rocks for the rover to investigate. But no one really expected such dramatic scenery. Soon after they saw the first pictures Matt was quoted as saying , "We deliver!" as as the whole team was probably applauding. Well, I wasn't there so I don't know how it actually happened.

Matt's office was practically next to my cubicle, which was amazing since I had previously seen quite a bit of him on TV and now I was working there alongside him. Little did I know that it was only the beginning and that I had better get used to being around so many of the world's most accomplished planetary scientists and space mission engineers. It was a very abrupt change from the life I had been leading!