This website is my attempt to convey the experience of taking the virtual reality tour of Cordwainer Smiths' universe I've been constructing for the last few years. Until I can make the actual real-timeVR worlds available either online or accessible some other way, the best that I can do is to offer this "simulation of a simulation". Even if you can't "fly" through these worlds right now, I hope that my extensive use of screen-capture still-images from the various virtual worlds will be almost as good. For best results, be sure to see the tour images full-size by clicking on the small versions. In a few cases, I've created some non-VR images to complete the tour.
As you can probably guess, I am one of Cordwainer Smith's greatest fans. More than anything else, this website and project are a tribute to this amazing author and his stories about the future. The real credit for virtually everything on this website belongs to him!
The 160th Century Worlds Tour is a work-in-progress by virtual reality artist Corby Waste.
Quest of the Three Worlds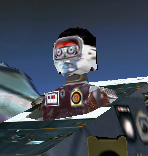 Robotic Police Ornithopter Pilot