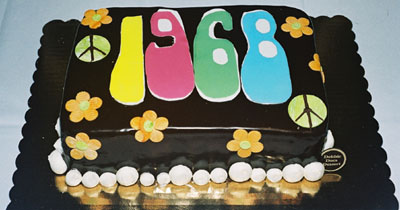 Ross Reunion Class of 1968 40th Party Pics
Recommend clicking on the images to see larger versions
September, 2008, Deer Park Villa, Fairfax, Marin County, California
Welcome, Pam! (since you missed it)
NOTE: I have kept the maiden names for identification purposes.
Barbara Morrisey, Mr. McGhee, Mary Osterloh

Lisa Hoxie, Corby Waste, Barbara Morrisey

Lisa and Barbara were my main helpers.

Deborah Ripley and Steve McGee

Dave Grandin and Deborah Ripley

Paula Weaver, Rosemary Gregg, Barbara Morrisey

Annie Allen, Corby Waste

Carolyn Conner, Kim Armstrong, Barbara Morrisey

Bill Dawson, Mike Mayer, Jon Ballard

Greg Bunting, Mary Hendrickson

Gerry Warburg, Steve McGhee

Paula Weaver, Mike Rorick

Julias Salz, Mr. McGhee, Buffie Hicks

Barbara Morrisey, Brian Minick

Tom Guerin, Dwight Rounds

Mr. McGhee gave a little talk.

Barbara Morrisey's husband Craig and the cake

Barbara, Alec McAndrews, his wife (?), Julia

Dwight, Ted Brown and his wife (?)
Peter Khourie and Pat Manning were also there - you can see them in the group pics at the top. There's a guy in the middle I can't recognize, let me know if you know who he is and I'll add his name.
We had an announcement that Steve Innes had passed away, which apparently wasn't known, he was out of the country.
We mainly had drinks and dinner with very little speech-making. It was pretty cool.