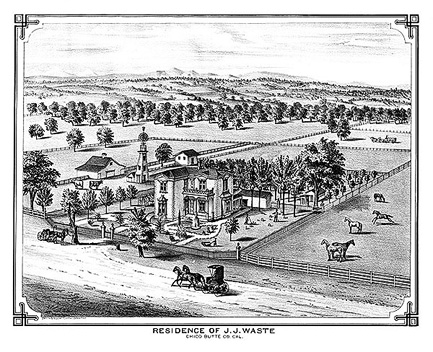 Born on a farm near Chico, California, on Halloween, 1868, the son of John Jackson Waste
and Mary Catherine McIntosh, William Harrison Waste was destined to be the third native Californian to become Chief Justice. His father and his Kentucky-born mother were pioneer immigrants. The father, scouting for his party, rode a Kentucky thoroughbred all the way to California, arriving in 1853. He remained at Sutter's Fort for a short time before settling at Princeton, Colusa County, where he raised cattle. Later he moved his family to the farm where Waste was born.
His mother died six weeks after William's birth. In accordance with the deathbed request of his mother, Waste was taken to live with his Uncle John and Aunt Mary Helphinstine in Chico.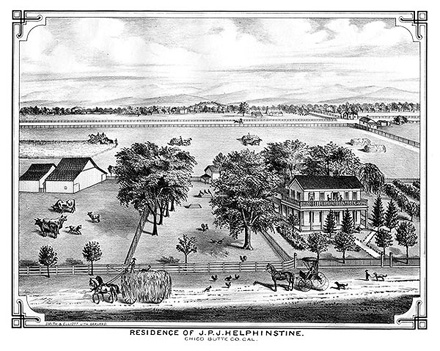 His "Uncle Johnnie" was like a father to Waste until the uncle's death in Los Angeles in 1885. His Aunt Mary lived with Waste in the family home until her death in 1910, by which time she had seen her foster son serving as a judge of the Superior Court for five years.

Waste received his elementary education in the small one-room school near his Chico home. One source described it as the proverbial "little red schoolhouse." Waste himself attributed his first desire for knowledge to the New England school-mistress, "Aunty Blake", who taught him in elementary school.
In 1882, when Waste was about thirteen, his father died. After a short time Waste and his foster parents moved to Los Angeles. Waste walked to school from his ranch home in the open country near Pico and Figueroa Streets.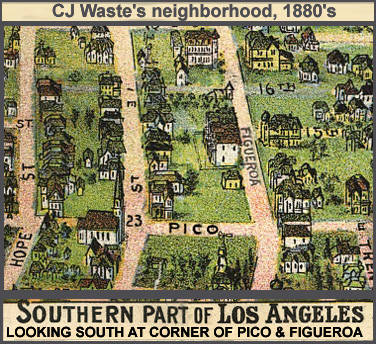 Upon completing grammar school, Waste entered the "old" Los Angeles High School, which had some attributes now normal to universities as many of the students moved from other towns to attend. This school was famous for its spirit. The annual alumni ball, sponsored by the alumni association, was organized the year before Waste moved to Los Angeles and was one of the biggest social events of the town. In 1887, after Waste's graduation, Los Angeles High School's football team that beat the local college teams began to play and beat the University of Southern California.
Panoramic map of Los Angeles, published in 1894.
Click on the map to see a much larger version.
Waste was interested in law at this early date. When not in class because of split school sessions, he and his high school friends frequently watched the proceedings in Los Angeles courtrooms. The boys had their favorite trial lawyers, much as many boys today have sports heroes. Returning at the age of nineteen to northern California in September, 1887, Waste, encouraged by an influential high school teacher, entered the University of California at Berkeley, graduating with the now rare degree of Bachelor of Philosophy in 1891. At this time Waste lived with his Aunt Mary in a duplex on Durant Avenue. Promptly entering Hastings College of Law, he graduated with an L.L. B. degree in the spring of 1894. Shortly thereafter he was admitted to the bar at the age of twenty-five.
Legal History Sidebar
William Harrison Waste has the distinction of being the first member of the State Bar of California. The State Bar of California website has the story. Please see:
"The Distinction Of Being No. 1"
Continue to part 2