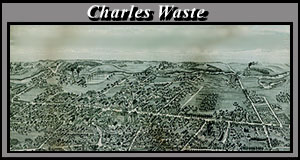 Charles Waste (Charles Wast, Charles West)
Birth: Oct. 21, 1706, in Middleboro, Plymouth County, Massachusetts
Death: July 10, 1765 in Plymouth, Plymouth County, Massachusetts
Charles was the son of Richard Waste of Taunton. His mother may have been Elizabeth Cannady.
Charles N. Waste became an iron bloomer and owned a foundry in Dartmouth (New Bedford) in Bristol County, Mass. Charles married Deborah Williamson on Nov. 17, 1737, according to the early marriage records of Middleborough, Massachusetts.
Charles's father Richard Waste left his son some land in Middleboro, according to Richard's will of 1719. A deed in the Land Records of Plymouth Co., Mass., dated June 6, 1719, made by "Richard Wast of Taunton, Miller", gave, after his death, to son Charles lots 57, 58 in Middleboro. These lots were sold by Charles Wast of Middleboro in 1742.
On April 6, 1742, Charles was living in Middleboro when he acquired from Ephraim Dunham of Norton, Mass., 28 acres and a dwelling house in Norton, in exchange for two lots in Middleboro. Then on Dec. 16, 1742, Charles, now a resident of Norton, sold the same property to Jacob Leonard.
Charles and his family had moved from Middleboro to Norton in 1742 but did not stay long. Their eldest son Bezaleel was born there that same year of 1742. They then movd to Rochester no later than 1744. His next two sons, Richard and Eli, were baptized in Rochester. Charle's son Richard was killed in action in the War of 1762.
The estate of Charles Wast was administered on Nov. 6, 1765 by son Bezaleel Waste, and sons-in-law George Badcock of Dartmouth and Consider Crapo of Rochester.
Charles Waste died at age 59 on July 10, 1765 when he was impaled on an iron bar which he was carrying when he fell from a footbridge in Plymouth. He was probably buried in Middleboro where he lived at the time of his death. His wife Deborah Waste died at age 72 in 1790 at Wilmington, Windham County, Vermont. In the last two years of her life, Deborah relocated to Wilmington where some of her children and grandchildren lived.
Deborah Williamson
Birth: April 17, 1713 in Duxbury, Plymouth County, Massachusetts
Death: 1790 in Wilmington, Windham County, Vermont
She was born in Plymouth, Masschusetts and was the youngest daughter of George Williamson of the Pilgrim family and Mary Crisp.

contains additional information about Deborah Waste:
"About 1788, two brothers of our grandfather, Bezaleel (born 1742), came to Wilmington, Vt., and settled there. Their names were Richard Waste, born 1744, and Eli Waste, born 1746. Their aged mother came with them (born 1718). She died and was buried there in 1790. There is no headstone to mark the exact spot, and none was placed in the town at so early a date as that. She richly deserved one, as it is handed down to us that she was a noble and industrious woman, being left a widow with nine children who grew up and were trained in the way they should go."
The following material is new to my research project but in fact has been in our family a long time. It is very significant information that will need to be fully integrated with my previous findings. - Ed.
From "The Waste Family"
8 Generations
1720-1960
Compiled by Robert W. Waste, 1960
The First Generation
Charles N. Waste
Charles N. Waste was born on July 5, 1720, in the section of Plymouth, Plymouth County, Massachusetts now known as New Bedford. And here he grew up.
It is believed, but yet unproven, that his grandfather was the Bezaleel Waste who sailed from Scotland or England with his brother James to make his home near Portsmouth, New Hampshire in the year 1670.
"My personal belief is that the above two brothers later settled in Massachusetts, as they were both iron workers," wrote 81-year old Thomas Waste, son of Ira Charles Waste, in a letter in Fayette, Iowa to his nephew William H. Waste in 1923. These two brothers probably settled in Bristol County, Mass., because in this State, Charles N. Waste was soon born.
"He was an iron bloomer and owned a foundry," wrote Charles Howard Waste of Jacksonville, Vermont in 1921. "He fell when carrying a bar of iron across a foot-bridge, and was killed."
From two sons, Bezaleel Sr. and Eli, stemmed the two principal branches of the Waste family in America, shown on the official records.
Charles N. Waste died on July 19, 1765, in Plymouth, where he had lived all his life. He died at the age of 45.
At 17 he married DEBORAH WILLIAMSON on November 17, 1737; she was 19. She was born in Plymouth in 1718 and died in Wilmington, Vermont in 1790 at the age of 72. Her parents were George Williamson (b. 1675) and Mary Crisp Williamson (b. 1678) - a family that dates back to the Pilgrims of 1620.
Charles and Deborah Waste had 9 children:
Marcy Waste (1739-17??), wed Consider Crapo.
Hannah Waste (1740-17??), wed Thomas Fuller.
BEZALEEL WASTE, SR. (1742-1818) (Our Line)
Richard Waste (1742-1762), unmarried.
Eli Waste (1746-1833), wed Jemima Babcock; had 7 children.
Sarah Waste (1748-1789), wed Peter Crapo; had 6 children.
Noah Waste (1750-17??), wed Betty Weston.
Nathan Waste (1753-17??), wed Marcy Austines; had son Noah.
Deborah Waste (1757-1792), wed James Blackmer.
Plymouth, Plymouth County, Mass. (pop. 13, 600) lies 37 miles southeast of Boston on Plymouth Bay, an inlet of Cape Cod Bay. It is a summer resort and a top tourist attraction: it manufactures woolen goods and contains many cranberry bogs. It was established in 1620, when the Pilgrims from Plymouth, England arrived here in December aboard the "Mayflower". It is New England's oldest town. White man first saw this hilly area in 1602.
Dartmouth area of Massachusetts
Bristol County, from an 1895 map. The coastal town of Dartmouth is marked with a white dot. The famous whaling town of New Bedford is very close. Middleborough and Rochester can be seen a short distance to the east in Plymouth County.
More information about Charles Waste is contained in this excerpt from a history of Zaccheus Handy, regarding a will dated May 25, 1783. Zaccheus is referred to as a resident of Sandwich, Mass. Sandwich is located in Barnstable County, Cape Cod area.
"A deed dated Aug. 27, 1747 shows he (Zaccheus), a Sandwich carpenter, bought from John Freeman of Rochester, a yeoman, several tracts of land there for 700 pounds. The property included Freeman's dwelling house and homestead, where he now lives. Also a gristmill with dam and stream called Seppican Mill River. Also a parcel of land known as William Noyes Homestead, about 85 acres and 30 acres of meadow ground. It was his first wifes fathers property, conveyed by deed Jan. 29, 1747-1748. He sold part of this land to Charles Waste of Rochester May 18, 1750. Will dated 5-24, 1783."
Middleborough, Massachusetts, 1889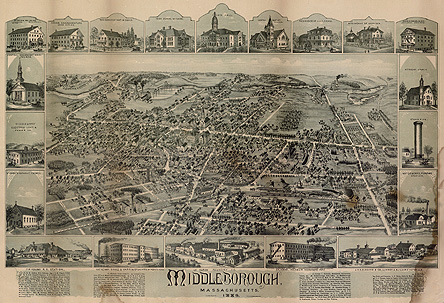 Click on the map of Middleborough to see a very large version.
Children of Charles and Deborah Waste
Mercy Waste, born March 29, 1739 in Middleboro, Plymouth, Mass.. She married Consider Crapo (pronounced Cray' po) of Plymouth on March 3, 1757. He was born in 1735 and later served in the American Revolution. The children of Consider and Mercy Crapo are listed here.
Mercy died in Savoy, Berkshire County, Massachusetts, year unknown. Mercy's sister Sarah married Consider's brother Peter. More information about Consider and Peter Crapo's family is located here.
Hannah Waste, born May 27, 1740 in Middleboro, Plymouth Co., Mass. She married Thomas Fuller on Sept. 2, 1762 in Dartmouth, Mass. Hannah died in Palmyra, Wayne Co., New York, no date given.
Bezaleel Waste, born May 14, 1742 in Norton, Plymouth Co., Mass. He married Joanna Cannon on Nov. 28, 1765. Bezaleel worked as a farmer and highway land surveyor. He became one of the first selectmen of Wilmington, Vermont. The home that Bezaleel and Joanna built survives today as the Nutmeg Inn. Bezaleel died on Sept. 2, 1818, in Whitingham, Windham County, Vermont.
Here is a page about my ancestor Bezaleel Waste.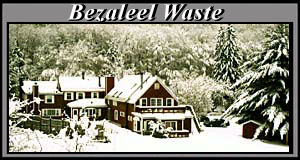 Richard Waste, born May 1, 1744 in Rochester, Plymouth Co., Mass. He was killed in action at Crown Point, New York on Jan. 1, 1762 during the French and Indian War. (It is specifically said that he died in the "French War of 1762".) He was buried at First Parish Cemetery on New Bedford Road, town not given.
Eli Waste, born June 12, 1746 in Rochester, Plymouth Co., Mass., died Sept. 7, 1833 in Wilmington, Vermont. He served in the American Revolution and is also being used as an example by the National Archives website!
Here is a page about Eli Waste.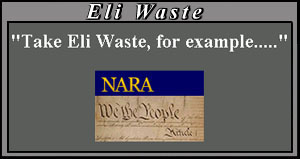 Sarah Waste, born Sept. 4, 1748 in Freetown, Bristol Co., Mass. She married Peter Crapo, Consider's brother, on Nov. 13, 1766 in Dartmouth. The children of Peter and Sarah Crapo are listed here. Sarah died on May 16, 1789.
Here is a page about Sarah and Peter's family, including the remarkable story of Susannah Howland. Included also are Sarah's grandson Michigan Governor Henry Howland Crapo and her great-grandson William Wallace Crapo, Congressional Representative from Massachusetts.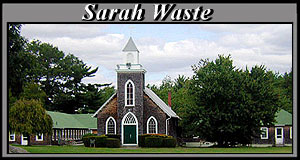 Noah Waste, born March 9, 1750 in Freetown, Bristol Co., Mass. He married Betty Weston on Jan. 27, 1773 in Dartmouth, Mass. During the War of 1812, he served in the 2nd Regiment (Lincoln's), of the Massachusetts Militia as a musician. Noah was a sea-faring man. He died in the West Indies, cause of death unknown to date.
Nathan Waste, born May 24, 1753 in Freetown, Bristol Co., Mass. He enlisted to fight in the the Revolutionary War on May 10, 1775 and was a private in Capt. Thomas Kempton's Company of Col. Timothy Danielson's Regiment. Nathan married Marcy or Mary Austine (Austen or Astin) on Jan. 29, 1778 in Dartmouth, Bristol Co., Mass. They had a son also named Nathan, who was born about 1780.
It isn't known when either Nathan Waste or his wife died.
Deborah Waste, born January 22, 1757 in Freetown, Bristol Co., Mass. She married James Blackmer. She died in 1792 in Adams, Berkshire Co., Mass. The 1790 census listed four children, all born in New Marlborough, Berkshire, Massachusetts. Three of their names are known:
Almy Blackmer, a daughter, born about 1776
Aetna Blackmer, a son, born about 1785 (his name also appeared as Atney)
Ethra Blackmer, a daughter, born about 1788
Charles died on July 10, 1765 in Plymouth, Plymouth County, Massachusetts
Charles and Deborah Waste lived 8 generations before mine.