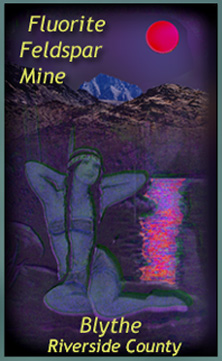 NEW 2017 FIND: FLUORITE-FELDSPAR MINE
2-Color Fluorites
Fluorite Mine #1, near Blythe, Riverside County, California
2-COLOR FLUORITE "A", FLUORITE MINE #1, BLYTHE
2-COLOR FLUORITE "B", FLUORITE MINE #1, BLYTHE
2-COLOR FLUORITE "E", FLUORITE MINE #1, BLYTHE
2-COLOR FLUORITE "F", FLUORITE MINE #1, BLYTHE
2-COLOR FLUORITE "G", FLUORITE MINE #1, BLYTHE
2010 - 2012 DISCOVERIES: FLUORITE-FELDSPAR MINE POSTER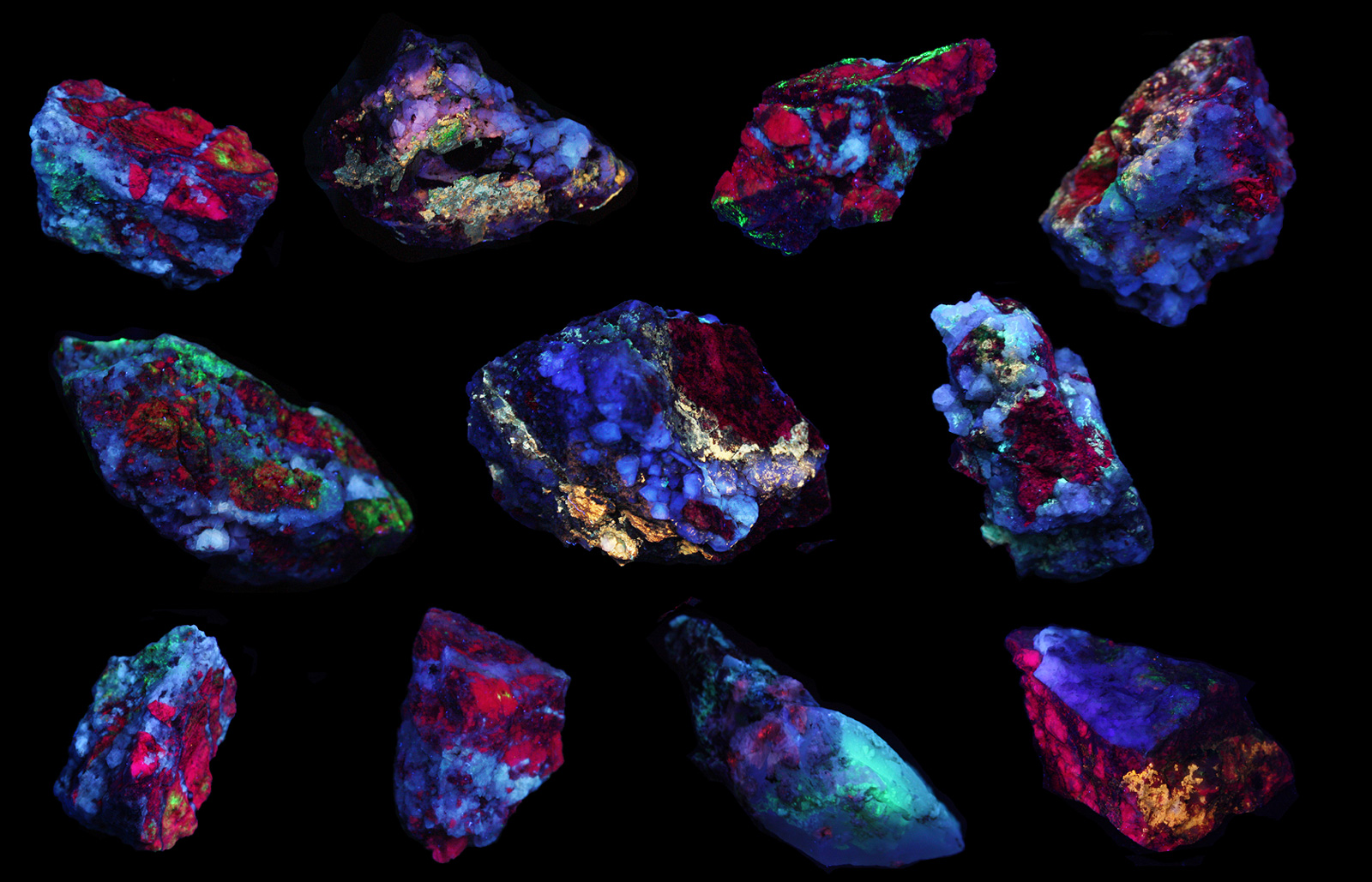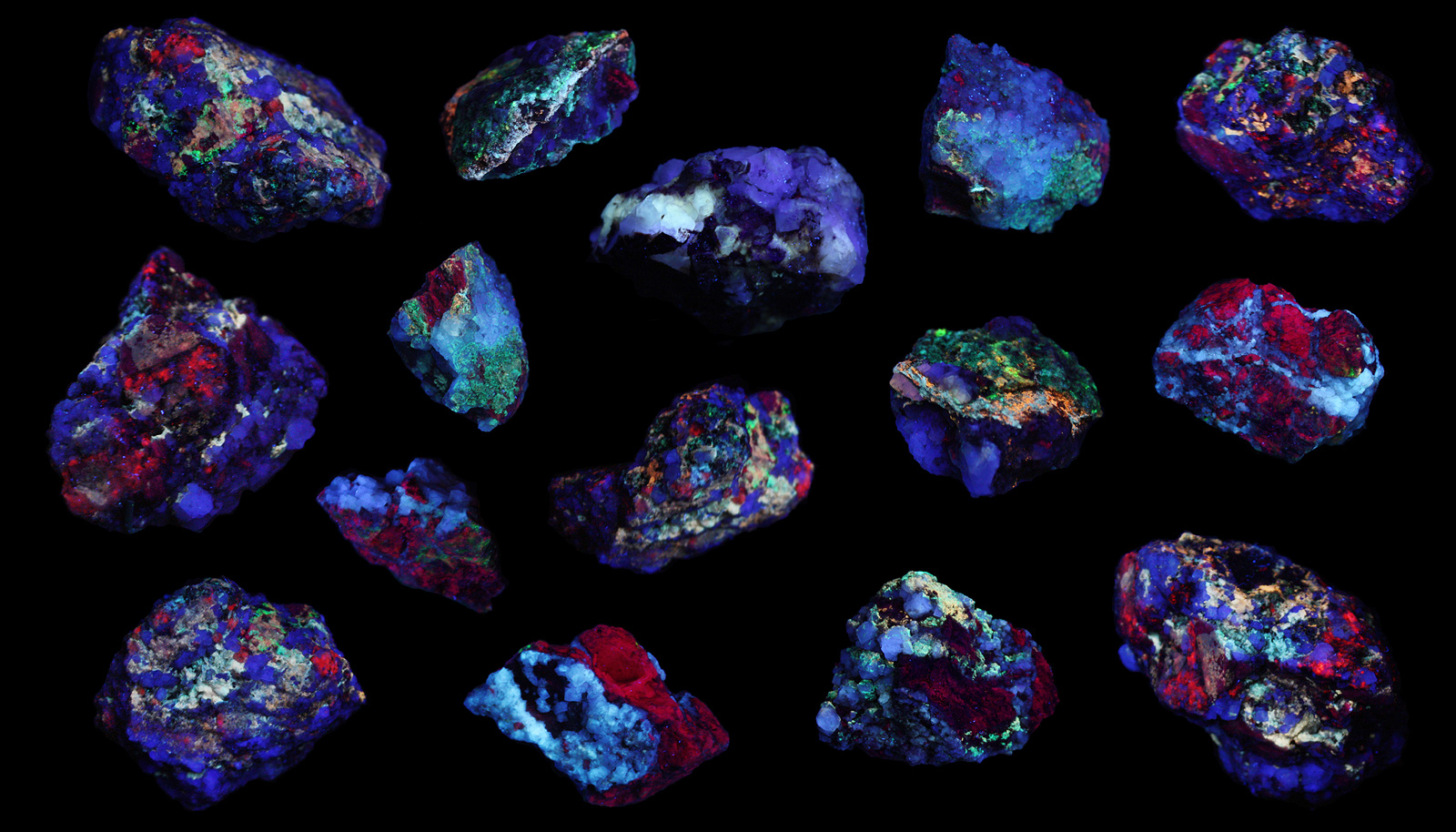 Fluorite - Feldspar UV Gallery
Click on the images to see full-size
2012 Gallery
Fluorite-Feldspar 6

Found Easter Spring Break, 2012

Fluorite-Feldspar 6

Fluorite-Feldspar Y front

Found Easter Spring Break, 2012

Fluorite-Feldspar Y back

Found Easter Spring Break, 2012

Fluorite-Feldspar 1

Found Easter Spring Break, 2012

Fluorite-Feldspar 1

Found Easter Spring Break, 2012

Fluorite-Feldspar 4

Found Easter Spring Break, 2012

Fluorite-Feldspar 4

Found Easter Spring Break, 2012

Fluorite-Feldspar 4

Found Easter Spring Break, 2012

Fluorite-Feldspar 4

Found Easter Spring Break, 2012

Fluorite-Feldspar Z front

Found Easter Spring Break, 2012

Fluorite-Feldspar Z back
2010 Gallery
| | |
| --- | --- |
| | |
| Fluorite-Feldspar D front | Fluorite-Feldspar D side |
| | |
| Fluorite-Feldspar D back | Fluorite-Feldspar C |
| | |
| Fluorite-Feldspar R | Fluorite-Feldspar A |
| | |
| Fluorite-Feldspar O - Front | Fluorite-Feldspar O - Back |
| | |
| Fluorite-Feldspar Q with unknown fl. green - Front | Fluorite-Feldspar Q with unknown fl. green - Back |
| | |
| Fluorite-Feldspar S with unknown fl. green - Front | Fluorite-Feldspar S with unknown fl. green - Front |
| | |
| Fluorite-Feldspar T | Fluorite-Feldspar T |
| | |
| Fluorite-Feldspar U | Fluorite-Feldspar U |
| | |
| Fluorite-Feldspar J | Fluorite-Feldspar J |
| | |
| Fluorite-Feldspar N | Fluorite-Feldspar N |
| | |
| Fluorite-Feldspar F (or V?) | Fluorite-Feldspar P |
Fluorite-Feldspar B

Found at the Turtle Hole

Fluorite-Feldspar B

Found at the Turtle Hole

Fluorite-Feldspar B

Found at the Turtle Hole

Fluorite-Feldspar B

Found at the Turtle Hole

Fluorite-Feldspar E

Found at the Turtle Hole

Fluorite-Feldspar E

Found at the Turtle Hole

Fluorite-Feldspar E

Found at the Turtle Hole
Fluorescent Safari 2010 - Day 2
Fluorite Feldspar Mine
Blythe, Riverside County, California
In May, 2010, FMS member Dave Stuck directed our fluorescent search to a remote desert mine location near Blythe, in Riverside County, California. The mine has no known name and is on the edge of the Little Maria Mountains near Midland, north of Blythe.
We explored several mines in the area but so far this one is the only good one we found. It's located 19 miles from the Colorado River in the swelteringly hot Colorado Desert. The temperature at Blythe on the 4th of July, 2010, on my 2nd trip there was about 112 degrees F. I went out to the mine alone during the late afternoon and twilight - it was much better. But if anything had gone wrong and I was stranded overnight the next day I would have had a hellishly hot time hiking back to the lonely road to hitchhike back to Blythe.
The collecting was excellent and I should have stayed for hours but I left earlier than I needed to because I got sort of spooked by the isolated location. In fact, my intuition began screaming at me to leave, telling me in no uncertain terms that I didn't belong there. So I left. Driving back to town I was able to see the fireworks display along the river in Blythe. That night was my 2nd fluorescent collecting trip on a 4th of July - the first was collecting Tugupite in Greenland. The contrast in locations almost could not have been greater, like the difference between fire and ice!
Dave and I discovered something new and unusual at this mine - fluorescent red feldpar with fluorescent blue or white fluorite.
TO BE CONTINUED . . . NEXT UP: THE FLUORITE-FELDSPAR MINE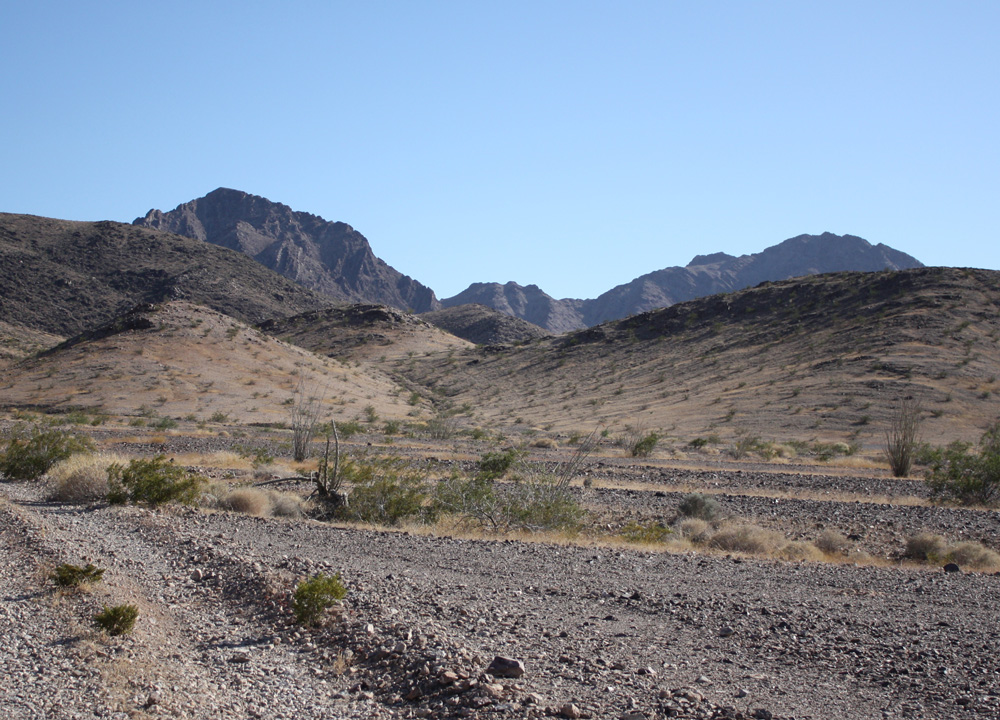 View of the Little Maria Mountain peaks (taken late afternoon, July 4, 2010)
First Fluorite Mine Exploration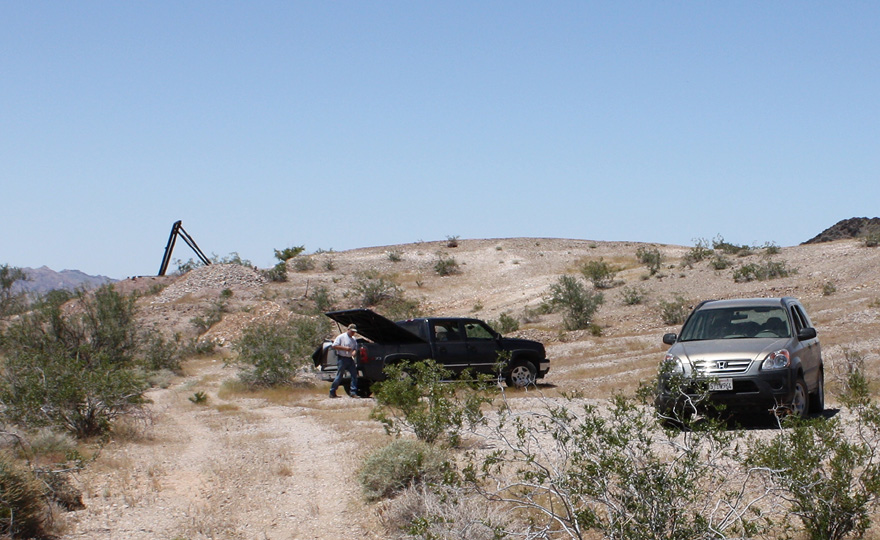 Blythe expedition leader Dave Stuck led us to a Fluorite mine that looked promising.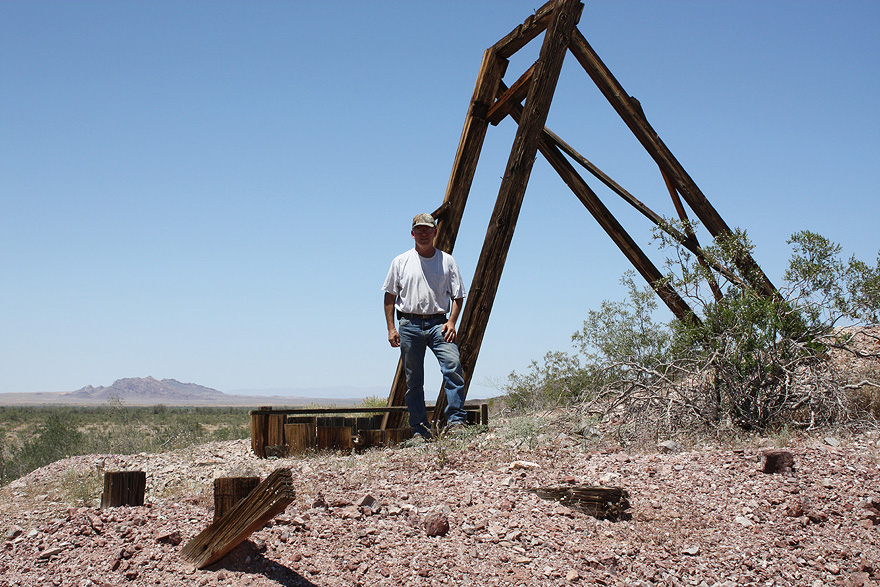 Dave taking a break from exploring the first Fluorite mine. There didn't seem to be any Fluorite except for a small pile that I discovered. Might as well pose for pictures. The view is looking north towards the Arica Mountains.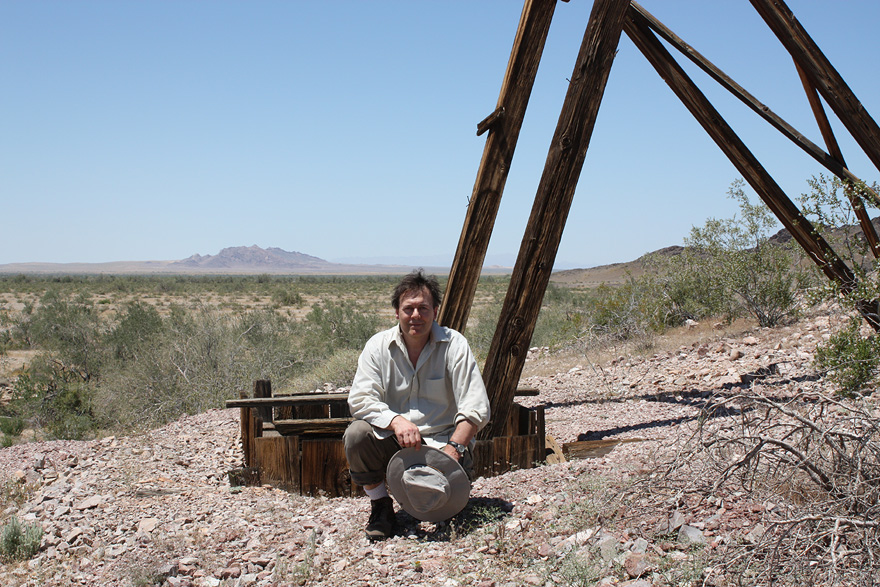 I really enjoyed exploring the first mine. What an incredible view in all directions.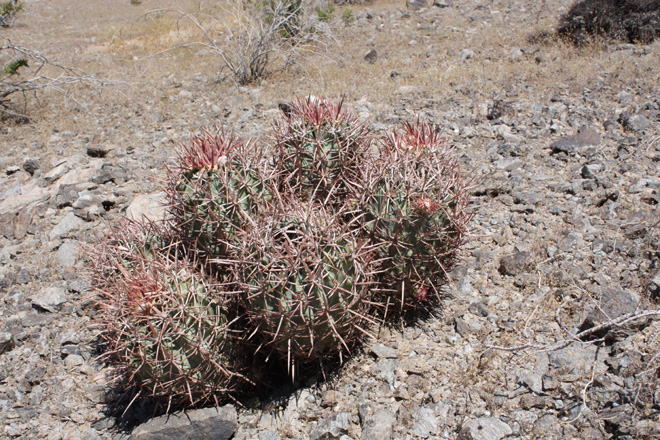 It's always nice to see cactus - they're not as common in the desert as you might think.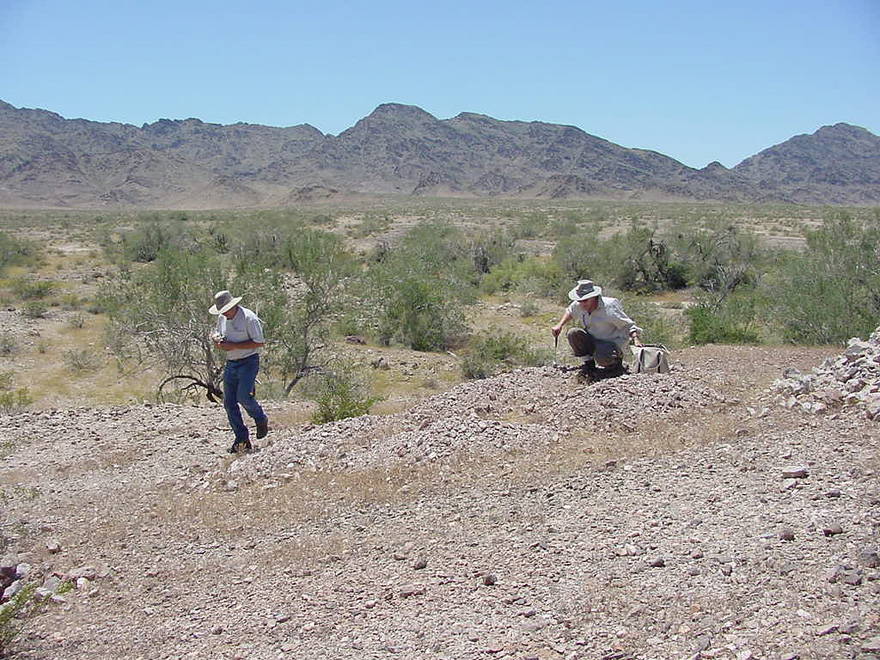 Dave, left and Corby, right, exploring the first Fluorite mine This view is looking south towards the Little Maria Mountains. It was so hot I didn't feel like trying to find fluorescents under a black covering.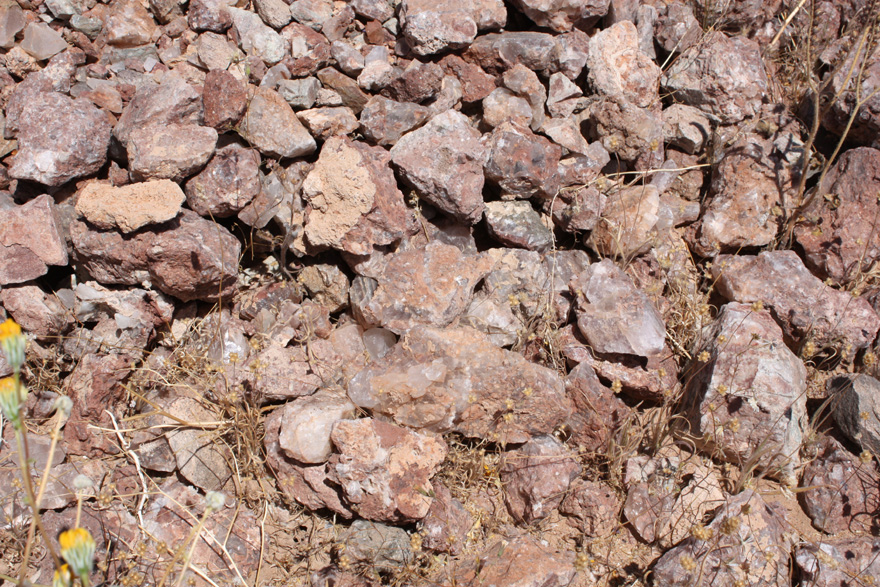 Just before leaving this location I found an excellent pile of Fluorite. It was a last moment discovery on the way back to my vehicle quite a distance from the mine. Success at last! This picture shows chunks of Fluorite. Some of them have areas that fluoresce white. Purple-blue and white, all in one piece - a great discovery! Unfortunately I didn't realise how great they were until we had already left. I need to go back and get more of them. I wonder if too much Sun exposure caused the white fluorence on some of these pieces. They were baking out there in the desert for a long time.
I was only able to briefly lamp these pieces by devising a new technique. By keeping the left side of my SUV away from the Sun's direction it created shade inside and allowed me to use the inside as a "dark room". I simply draped my large black plastic sheet over the open door of the passenger compartment and it worked very well. It was nice and dark under the plastic.
Even so, my eyes could barely see after all that bright sunlight. But at least I had the satisfaction of knowing that we found what we were looking for. That's now my standard technique for evaluating fluorescents in the field during daylight.
Will be continued . . . .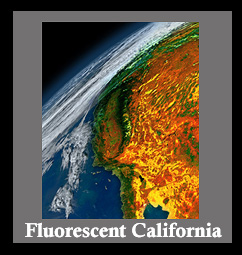 © Copyright 2012 by Corby Waste